Processing
The Pontika Marble factory is fully equipped with the most modern Marble Cutting, Processing and Grinding machines. It also has loading and unloading machines following international safety standards.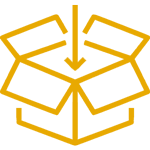 Packaging
We undertake the packaging of our products following the latest and most advanced international standards for their safe transport to any place inside and outside Greece.
Planning
In the company we have a design and implementation department of the client's aesthetic ideas, finding solutions for any demanding taste. Architect Engineer Amalia Pontika guarantees the best aesthetic result.
Place
Our company undertakes any construction and installation of marble, granite and natural stones. Based in Lamia, a group of renowned craftsmen, upon consultation, we undertake and deliver projects all over Greece.
Installations, Floors - Kitchen Countertops - Stairs - Bathroom Investments - Fireplace - Construction and installation Monuments.
We bring the best to you, because you ask us to!
The selection of strictly quality and optimized materials and tools, the continuous relationship with customers, but above all the support and training in the application of the materials made Pontika Marbles synonymous with quality in Greece and Europe.
We also undertake projects that require processing of the marble by CNC and Hydrocutting, ensuring a perfect Construction and Aesthetic result.
We are waiting for you to find the most ideal solution together!